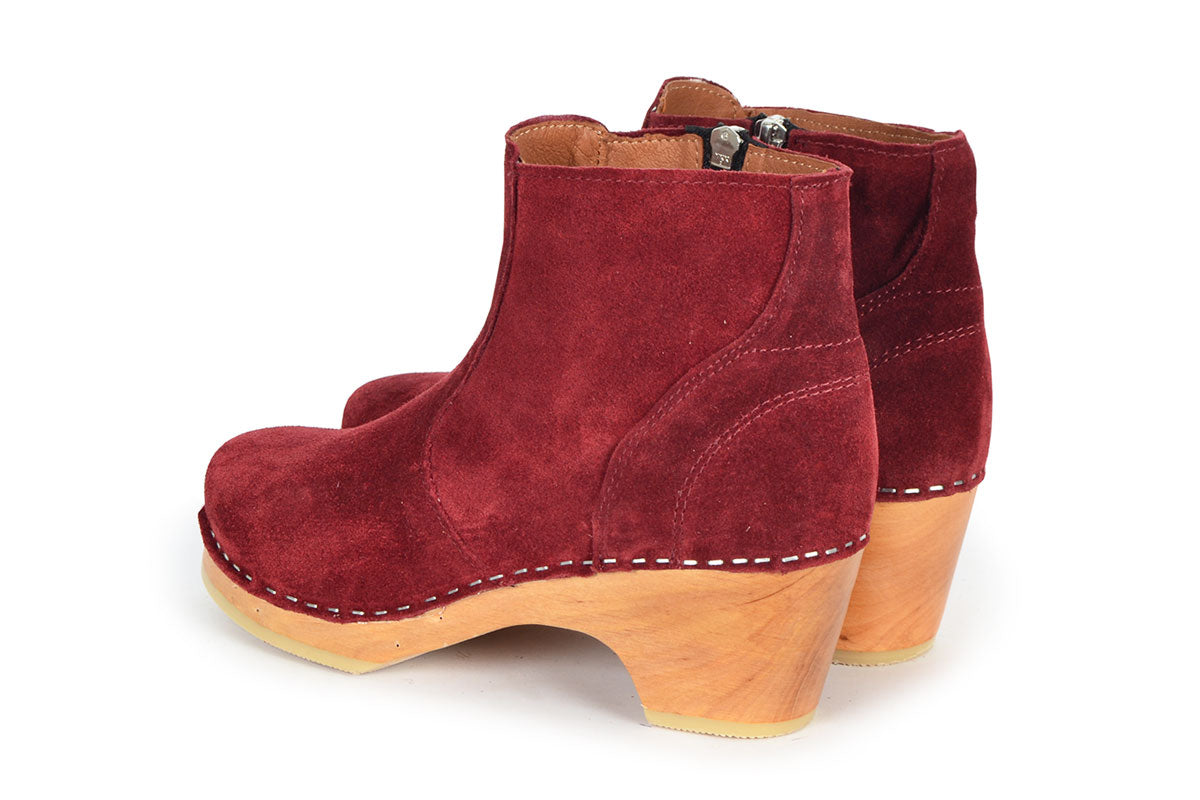 Auckland Scarlet Red
Auckland has a classic boot shape with zipper closure on the inside. Here in Scarlet Red suede leather with soft leather lining and on our natural low heel. The boots fits medium width foot.
Heel height: 7 cm
Platform height: 2.5 cm
Fit:

Medium width

Leather Upper: Scarlet Red suede 

leather

Lining: Soft leather lining
Wood: V

arnished alderwood

Footbed: 

Natural wood for excellent moist absorption

For every pair ordered online we plant a tree with WeForest to make the earth cooler
EU & USA: We ship with Fedex or UPS and the 
delivery time is normally 2 - 5 working days. Free shipping.
Rest of the world: We ship with normal Post and the shipping time depends on your country but it is normally 4 - 12 working days.
Can I return the clogs if they don't fit?
Yes, unworn clogs can be returned for an exchange or refund. Please note that we do not cover the shipping cost for the returned shoes.
How long will it take to get my order?
For the EU and USA the UPS Expedited shipping time is 2 - 5 working days. With UPS Express it is 1 - 2 working days.
What is the shipping cost?
We offer free standard shipping with UPS or the postal service.
What shipping carriers do you use?
For the EU and USA we use UPS. For the rest of the world we use the Post.
How can I track my order?
You will get an email from UPS with the tracking information once the clogs are shipped.
What size do you recommend?
Everyone's feet are different so it's a difficult question but take a look at our size guide section
Can you advice me when clogs and sandals that are out of stock will become available?
For out of stock clog styles, send us an email at: sales@maguba.com
HOW DO YOU CLEAN A PAIR OF MAGUBA CLOGS?
WOOD
If the wood becomes dirty, it is best to gently clean it with a damp cloth or, if necessary, use soap and water. Lightly sanding with fine sandpaper is a good idea if you want to clean up scratches and dents.
Our clogs absorb foot perspiration to help keep your feet nice and comfortable. If the bottoms absorb too much external water, allow the clogs to dry slowly. Wipe your clogs clean then put them in a dry place at room temperature. Do not heat up your clogs or try to speed up the drying process as this could cause the wood to crack or split.
LEATHER
Here are a few simple tips that can help your Maguba clogs last longer. Keep in mind that leather care depends on what type of leather your clogs are made of.
Vegetable Tanned Leathers:
Because of the natural process and finish, vegetable tanned leather is initially sensitive to water, direct sunlight and heat. Therefore, avoid wearing your clogs in wet weather or leaving them in direct sunlight.
With wear, the leather fibers will become more flexible and the leather will become less sensitive to water. Be very careful if you need to use a cleaning product, cream or oil. Ask for advice when you buy the product from your shoe repair shop, and try on a small hidden spot and start out using a very small amount of the cleaner/cream/oil. Most cleaners and sprays will darken the leather.
Pull Up Leathers:
The pull-up leathers are treated with oils and waxes after being dyed which gives the leather a soft hand, or feel. When the pull-up leathers are stretched or pulled the color migrates and becomes lighter in the pulled areas. This gives the leather a beautiful two-tone effect. Also, the leather will quickly develop a patina with scratches and signs of wear, which is an intentional effect. Scratches can be reduced by rubbing the scratch with your fingers.
There are many cleaning products and creams made specifically for oily and greased leathers. We recommend a shoe repair shop for advice, and to be careful when you try any product for the first time. Always test any new product on a small hidden part of the clog.
Nubuck & Suede Leathers:
To clean nubuck and suede, wipe these leathers with a damp cloth. Then use a nubuck and suede brush to remove stains on the surface of the leather. Nubuck and suede spray provides a layer of protection against water and stains. For the best results, we recommend applying the spray when the clogs are new.
Patent and Coated Leathers:
Use a damp cloth to wipe clean any dirt on the clogs. If this does not work, try soap and water on the spots of dirt.
The width of the clogs and sandals made on a High, Mid or Low bottom usually fit well for a medium-to-narrow width foot. The models on the comfy bottoms are a bit wider and have a regular fit. In length our clogs are a bit longer in the sizes compared to many Italian and French brands. The lenght in mm for each size is as per the table above.
How to measure your foot length:
Stand with the heel to a wall and put a measuring tape under your foot
Check what the length is by your longest toe
If you are between two sizes, choose the higher size
What our customers say
Reviews